History about the Jokkmokk Winter Market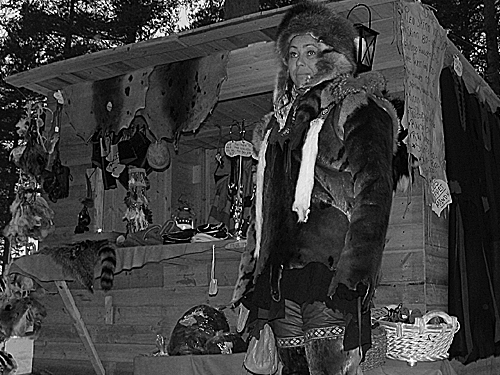 Jokkmokks Winter Market is one of the oldest market places in Sweden with traditions all the way back to middle ages. Jokkmokks market has a long history with a 400 year old tradition. King Karl IX decreed in 1605 that permanent marketplaces should be established in Lapland. At this time the village Jokkmokk didn't exist. With permanent market places could the government get more power over the people in the north and it made it easier to collect taxes, hold district court and spread Christianity. When Karl IX decided about the market places we already had established trade routes and systems for trading in the inland of Lapland. Old archaeological findings has shown that there were trading between southwest of Finland over to Tysfjord in Norway already during the Viking Age. Jokkmokk became at this point a centre for trading. At the same time as the market places established all other trading was forbidden in the Sami area of Luleå. Lake Talvatis where the Sami village Jokkmokk had their winter camp became one of the market places.
In the beginning the market last for 2-3 weeks and was held around the 25th of January. The length of the market changed over time and in the 1930s it lasted for 2 days. That the market was held in wintertime had its natural causes. At this time it was easiest to travel along the frozen lakes and rivers and the Sami people had their reindeers gathered down in the forests of Jokkmokk.
1955 when it was the 350 year anniversary of the Jokkmokk Winter Market there was a decision to make it more touristic. The market days increased into three days and the market stalls went from approximately 20 to 150. The first reindeer ride, a parade of reindeer and sleds, went through the village and a dance was held at the local heritage centre.
Today the Jokkmokk Winter Market opens the first Thursday in February and last for 3 days. Since the 400 anniversary of the market we also have a historical market that opens on Monday.
Today is the Winter Market so much more than just the market stands in the centre. It's art exhibitions, concerts, lectures, dog sled tours, skidoo safaris, reindeer rides, folk dance, disco, traditional food and people from every corner of the world.
In Jokkmokk we are 3000 inhabitants, during the Winter Market our little village get 30 000 – 40 000 visitors. During the 400 anniversary in 2005 we got 80 000 visitors!