Jokkmokk Winter Market 2018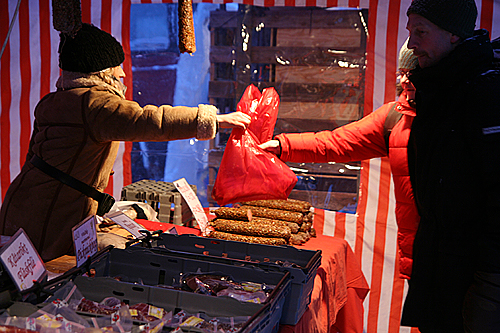 The market week in Jokkmokk is an extraordinary happening. Already several weeks before the market the whole community start to vibrate of activity. The snow gets out of the way from the streets, planning for the market stalls starts, the tempo gets higher and the people are full of expectations. The first visitors starts to come already the weekend before, fully dressed in fur hats and thick down parkas. Many people come back year after year. It seems like it become addictive and you want to come back and meet old and new friends, the meetings with all the great people are one of the greatest things. Jokkmokk has always been a natural meeting place for people from near and far. The market area in it self is not the most important. Except from all the people you meet it's also about all the interesting lectures, dances, the sami joik concerts and the art and handicraft exhibitions etc. Jokkmokk wintermarket, a uniqe market with a history of more than 400 years.
Read more about the history behind Jokkmokk winter market >>>
We offer dog sled tours during the Jokkmokk Winter Market. With help from our colleagues we try to do as many tours as possible. Even so, we are often fully booked.
During Jokkmokks Market we limit our dog sled tours to 3 hour tours and Northern light tours.
We recommend you pre-book.
During the Jokkmokk Winter Market we offer daily short dog sled tours from
Monday 29nd Jan. – Sunday 4th Feb.
Dog sled tour, 3 hour:
09.00 – 12.00; 13.00 – 16.00
Northern Light tour with dog sled, 3 hours:
19.00 – 22.00
More info about our dog sled tours during winter market>>>