Explore Sarek National Park 2018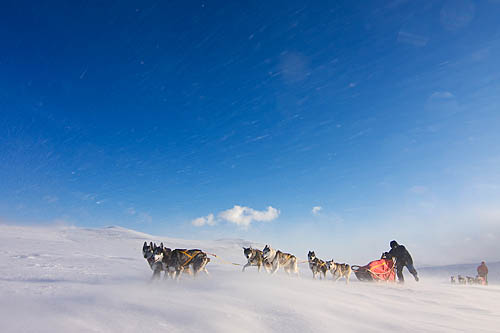 With huskies we will cover nearly 300 kilometres in perhaps one of Sweden's most mythical areas, varied with high mountains, deep valleys, old forests and winding rivers.
Our journey goes from Saltoluokta, through Sarek National Park, past Sweden's most inaccessible point and down along the Padjelanta trail to Kvikkjokk. From this little mountain village we head north, along the well known King's trail and go back to Saltoluokta Mountain Station.
The sunset's, the taste of fresh made reindeer stew, the companionship with the dogs and the feeling of lying in a warm sleeping bag while the snowstorm is roaring outside the tent are memories you never want to be without!
Day 1Â  Arrival to Saltoluokta Mountain Station.
We meet and give you information about the program for the following days. Together we have a nice dinner and check the equipment.
Day 2Â  Rissajaure, on the border to the tundra.
After breakfast we will meet the dogs, all Siberian Huskies and with different personalities. We give you instructions how to use the equipment, and with help from the guide we harness the dogs, load the sleds and make everything ready for departure. We set off for the bare mountain and the tundra. The first night we will stay in tents, so we rise the camp, prepare dinner and feed the dogs.
Day 3-5Â  Through Sarek National Park.
We travel through Sarek National Park to the southwest. We go down to the upper end of Rapavalley, Sarvesvagge or Alkavagge towards Padjelanta. The weather and snow conditions will decide our exact route these days. Since there are no accessible cabins in Sarek we have to rely on our tents, which will make us more free and independent in our choices.
Day 6-8Â  Tarradalen
We go down through the upper Tarravalley by the Tarraluopal cabins. From here we will follow the Padjelanta trail down through the Tarravalley to Kvikkjokk, a small mountain village by the end of the road. From Kvikkjokk we head north along the King's Trail back to Saltoluokta. In these days we will travel along marked trails with the possibility to spend the nights in nice cabins.
Day 9Â  Back to the civilization.
From the Sitojaure cabins we travel up over the bare mountain back to Saltoluokta. During this your last day with the dogs you will be amazed about your progress as a musher. Arrival to Saltoluokta Mountain Station. Here we will enjoy a hot sauna, warm showers and a three course dinner in the restaurant.
Day 10Â  Departure day:
Breakfast and then departure from Saltoluokta Mountain Station.
 
FACTS
Dates:
19 – 28 Mars 2018
Group size: Minimum 2 persons Maximum 4 persons.
Included in the price: Thermo overall, warm shoes, hat, gloves. Sleeping bag and equipment for the tour. Wilderness guide, one dog team per person.
Fullboard from dinner day 1 until breakfast day 10. (Typical Lapland and Swedish food). Accommodation 2 nights at Saltoluokta Mountain lodge, 7Â  nights in wilderness cabins and/or tent.
Not included in the price: Travel insurance, alcoholic beverages, international and domestic air fare. The tour starts and ends in Saltoluokta.
Tour conditions: Demanding and sometimes hard. This tour is more like a real expedition in a wild area without marked trails. Some outdoor experience is required. In wilderness cabin we sleep on bunk beds in mixed room with both gentlemen's and women's. Dry toilet is available around the cabins but when we camp in tent we dig a hole in the snow. The wilderness cabins are heated with wood/gas and have no electricity or running water.
No former dog sled experience is required but you must like animals and feel compassion for them.
Price:
31 000 SEK per person included Swedish V.A.T.
Singel room supplement at Saltoluokta the first and last night 450 SEK/night/person.
How physically demanding will it be?
How physically demanding it will be depends very much on the snow and weather conditions during the tour. But, to go dogsledding requires that you have good balance and to participate on the Explore Sarek tour also requires that you are in good physical shape. In up-hills and heavy snow conditions you must help your dogs by kicking beside the sled and sometimes also run and push the sled in steep up-hills (which can go on for quite a while in the mountains.)
You also need to have in mind that you will be physically active outside in the cold for many hours each day and most of the nights are spent in tents. You need to have some outdoor experience with camping since before. This is more like a real expedition in a wild area without marked trails.
Our tours are not made up touristic adventures but real experiences where everybody work as a team and helps with everything from taking care of the dogs, cooking, loading the sleds, fetching water and setting up tents etc.
If you are unsure if you are able to take part don't hesitate to send us an email and tell us about yourself and your worries. Women seem to underestimate them self very often, while men sometimes overestimate their own physical capacity. On our tours, we have people from all over the world of all genders and ages up to 67 years old.