Wildlife expedition in Sarek National Park, Lapland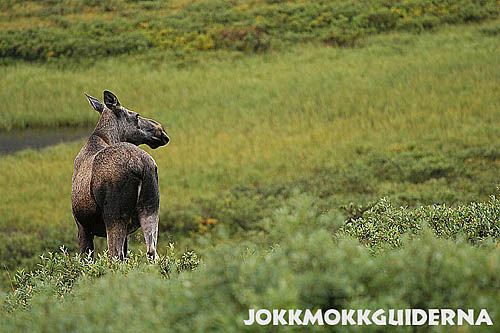 Sarek National Park is the most remote wilderness area in Europe. No roads, no trails, no cabins, just pure nature.
Join this 7-day expedition in search of Bears, Lynx, Wolverines and the largest Moose bulls in Scandinavia.
Some of the highlights:
'óŹ Helicopter drop into Europe¬īs most remote wilderness
'óŹ Hike through dramatic landscapes in Sarek National Park in Lapland
'óŹ Spend four nights in tent in complete wilderness + two nights at guesthouse
'óŹ Encounter some of Europe¬īs largest Moose and other wildlife
'óŹ Chance to see Northern lights
Sarek National Park is often called Europe¬īs last true wilderness area. A dream adventure for any true nature enthusiast. The park has no road access and can therefore only be reached on foot or by helicopter. You will be dropped at the border. And once you are in there, there are no marked trails and no access to huts or shelter. It will be just you, nature, some fellow adventurers and plenty of wild animals.
This is a hiking trip for active nature lovers in one of Europe¬īs most remote areas. There are no trails, cabins or bridges across streams and rivers. You will have to carry all of our own equipment which means your packpack will be rather heavy, with 15-25 kg's. And this is without your personal camera gear.
We will hike, camp out and spend some adventurous days out together in the most dramatic parts of Sarek, the valley of Rapadalen. Rapadalen is home to Brown Bears, Lynx, Wolverines, Golden Eagles and other large carnivores. But it is also known to be home to the largest Moose in Europe. Since no hunting has been allowed for a long time, these Moose are less afraid of people. And during September when they have their rutting season they are busy finding mates which makes them even less cautious of people. This is the ultimate time to go. And with just a bit of luck you can get really close to these majestic animals.
What is Sarek? Sarek National Park is the remotest parts in the Laponia area. Laponia is a huge mountainous wildlife area in Lapland in northern Sweden that became a UNESCO World Heritage Site in 1996. With a total area of 9400 km² it is the world's largest wilderness area that is still cultured by natives, the reindeer herding Sami people.
Sarek is impressive with its deep cut valleys between high, jagged peaks. There are hundreds of mountains over 1,800 metres. The contrast between rocky mountain sides, fractured glaciers and lush valleys makes for adventurous hiking. Sarek is not risk-free, but we will take good care of you and make sure we bring all neccessary equipment; waterproof tents, warm sleeping bags and a portable satellite phone etc.
Known as Lapland, the native name of this area is S√°pmi. The Sami people are the indigenous people inhabiting the Arctic area of S√°pmi, which today encompasses parts of northern Sweden, Norway, Finland and the Kola Peninsula of Russia. During this tour you will have the chance to visit the Ajtte museum where you can learn about the Sami culture and traditions.
How heavy will this be? The amount of walking is adapted to the terrain as well as the current weather conditions. We hike gently carrying our backpacks, sometime on almost non-existant trails made by the wild animals that inhabit this valley. You need to be aware that this may become a heavy trip, so you need to be in a generally good condition. If you are it will be a real rewarding challenge. But this is not a survival expedition. We will do a lot of breaks along the way. We are here to enjoy! We stop to drink water from the streams, boil coffee, take photos and share our life stories. On some of the days we will just do day trips from our camp without our heavy bags.

Day to day program
Day 1 Arrival and introduction
Arrival in Jokkmokk.
Meet your guide at Villa Åsgård guesthouse.
 During the afternoon we recommend you a visit to Ajtte, a museum of Sami culture and the mountain region of Laponia.
Welcome dinner at Villa Åsgård. We hold a presentation of the program and equipment check.
Night at Villa Åsgård.
Day 2 Into the wild
Breakfast and equipment check. A 1,5 hours minivan transfer will take us on a road leading us further into the Laponia area.
A short helicopter flight will take us to the mountains close to Rapadalen valley at the border of Sarek National Park. Enjoy magnificant mountain views from above.
Once we are dropped off we begin our hike to enter Sarek National Park. On this first day of hiking we only walk for a few kilometers carrying our own backpacks. We soon arrive at famous Skierfe rock where you will have some of the most amazing views across Rapadalen delta in the valley 800 meters below.
Here we set up our tents and enjoy our first outdoor dinner while viewing across the majestic valley below our camp.
Night in shared tents.
Day 3 Mountain plateau hike
After breakfast we pack our tents and hike at the mountain plateau with wonderful views across the snow capped mountains in the distance. This is a relatively flat terrain but with an ever-changing view over the valley floor below. There is a good chance to spot Moose, Reindeer, Eagles, Rough Legged Buzzards and for the lucky few even Wolverines and Brown Bears through your binoculars.
We enjoy an outdoor lunch and treat ourselves with several coffee and photo breaks. It is a fantastic feeling to spot Moose grazing peacefully in the valley.
In the afternoon we settle down at a nice spot and set up our camp.
We cook a dinner under the stars while we watch for Northern Lights.
Day 4  Wildlife watching in Rapa valley
After breakfast, we pack our tents again and walk down into the Rapa valley.
We wash our faces in the magnificent Rapa river and then continue our hike on animal trails along the river through the lush birch forest. This is where Moose gather up at this time of the year for the rut. We walk in silence to increase our chances to encounter wild animals. Chances are good that we will have some exciting up-close encounters with Moose.
We set up our tents in the valley and spend another night in the wild.
Day 5  Wildlife watching in Rapa valley
Wake up to another amazing morning. Taste the fresh air. Boil some coffee.
If everything is going according to plan we may leave the camp behind and go for a walk without having to carry our backpacks. If weather permits we may hike the famous Nammatj mountain, or just sit at its foot and watch for Moose and other wildlife.
It is nice to have a relaxing day without having to move the camp.
Pick some berries, relax at the camp fire, watch for wildlife.
Day 6 More wildlife watching in Rapa valley and return to civilisation
You don't want to leave! That's usually the feeling you get on the last day.
We use the day to hike and enjoy the park as much as we can before it is time to return to the helicopter pick up point.
The helicopter takes us back to Stora Sjöfallet. We will visit the Laponia nature exhibition and that ourselves with some waffles before we take the minivan transfer to Jokkmokk and return to the same guesthouse where we stayed on our first night.
Enjoy a well-deserved shower and served dinner before we conclude our adventure.
Night at Jokkmokk guesthouse, in proper beds!
Day 7 Departure day
Breakfast and departure.
Facts
Dates
18-24 September 2017
Group size
Maximum 10 persons and 2 guides.
Included in the price
'óŹ Experienced and passionate naturalist guides with trained eyes for spotting wildlife
'óŹ Two nights at guesthouse and 4 nights in tent*
'óŹ All meals from dinner day 1 to breakfast day 7
'óŹ Round-trip transportation Jokkmokk-Kvikkjokk
'óŹ Helicopter transfer from Kvikkjokk to the border of Sarek National Park
'óŹ Outdoor equipment: tent, sleeping bag, sleeping mat, outdoor kitchen utilities
* To reduce weight you may have to share tent with other participants.

Not included in the price
Travel insurance, alcoholic beverages, international and domestic air fare.
The tour starts and ends in Jokkmokk.
Accommodation
The first and last nights at Jokkmokk guesthouse in Jokkmokk. Stay at a basic but cosy guesthouse in standard double/twin room with shared bathroom. Due to limited rooms, single occupancy may not be available. You may have to share a twin room with another participant of the same gender.
Four nights in shared tents. We provide the following top-quality outdoor sleeping equipment: tent, sleeping bag (3-season Nordic climate) and sleeping-mat.
Times
Meet your guide at Jokkmokk guesthouse in the evening on arrival day.
You can leave at any time on the last day so you will have plenty of time to catch the bus or to drive to any of the airports.
For who?
Recommended minimum age is 18 years, or 15 years in company of parent. Participants should be able to walk in uneven terrain without difficulties. Walking level is medium but remember that you have to be able to carry a backpack of 18-25 kg. We may walk up to 2 hours at a time in uneven terrain off trails. Walks include many stops along the way.
Price
22 500 SEK/person (inkl. V.A.T.)
Single room supplement at Jokkmokk Guesthouse 260 Sek/night/pers.
September 2017.