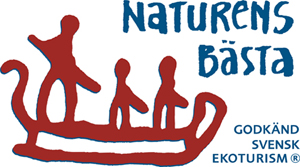 Jokkmokkguiderna is quality marked by Natures Best since 2003.
Labeling committeeĀ"s motivation (29 January 2003)
One of Norrbotten's most capable and most enthusiastic dogsled tour operators, who always puts the focus on the dogs. A skilled and serious operator, Matti Holmgren is determined to inspire other entrepreneurs in Jokkmokk tourism to develop their activities. He is also a genuine enthusiast with a deep commitment to the World Heritage of Lapland – the primeval forest in the vicinity of the mountains and its natural predators.

What is Natureā€™s Best?
Natureā€™s Best is the first national quality label for ecotourism in the northern hemisphere. It was launched during the UN International Year of Ecotourism in 2002.
Natureā€™s Best certifies and promotes the best Swedish tour operators and their finest products.
Natureā€™s Best is a reliable guide to the best ecotourism tours, and helps you choose quality products. This will lead to more fun for all involved.
Natureā€™s Best quite simply offers the best nature tours in Sweden.
Natureā€™s Best was developed by travel associations, land owners, nature conservation associations, non profit organizations, public authorities, tourist companies and institutions. More than 30 companies and 20 national associations took part in the process of creating criteria for Natureā€™s Best.
Natureā€™s Best gives all Swedish ecotourism operators the opportunity to quality label tours and to build a network for effective marketing.
The Natureā€™s Best quality label states that approved tours satisfy the quality criteria established.
Natureā€™s Best is designed to offer the traveler an unforgettable nature experience. It combines responsible nature conservation with more environmentally friendly ways of travelling that care for cultural heritage, local community and the environment.
Many tour operators offer ā€œgreenā€ tourism, but not all offer high quality tours or extraordinary experiences. Too few care sufficiently about nature preservation, adaptation to the environment or the involvement of local communities.
Natureā€™s Best is your guide to the best nature tours in Sweden. Lists the operators who go the extra mile for their landscape, local people, the environment and most importantly for you as a customer.
Click to know more about NatureĀ"s Best and Swedish Ecotourism!