Dogsledding adventure and northern lights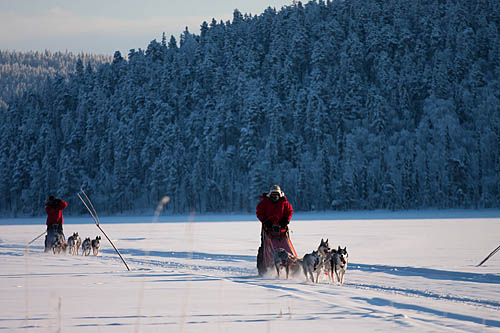 Experience the mid-winter in Lapland!
Travel with your own team of Siberian huskies through the fairytale forests and see the mysterious northern lights slowly dancing over the sky.
Spend the nights in a canvas tent and wooden huts. Fetch water from a hole in the ice and feel the warmth from the glowing fire in the wooden stove.
See tracks from the wild animals and experience the true wilderness way of living in close contact with our loving sled dogs.
Day 1-4 Four days of dog sledding and three nights in the wild.
We will pick you up in Jokkmokk and drive you to our kennel, located just outside Jokkmokk.
Here those who need get dressed in warm thermo parkas and pants and boots. You will learn how to handle a dog sled, how to communicate with the huskies and learn about safety in cold climate etc.
We harness the sled dogs and pack the sleds and get ready for start. You will drive your own team with 4 Siberian huskies.
Every day we stop and prepare our lunch over open fire out in the nature. By the huts and tent camps everyone help out with taking care of and feeding the dogs, cooking and fetch water from the lake/ river etc.
There is no guarantee for the northern lights but hopefully we will see this fantastic light phenomena dancing over the sky during the nights.
On day four we head back to Jokkmokk and will arrive to the kennel in the afternoon full of new experiences. We give the dogs some snack and take off the harnesses.
After saying goodbye to your new friends we drive you back to Jokkmokk.
Facts
Dates:
4 – 7 December 2017
11 – 14 December 2017
18 – 21 December 2017
2 – 5 January 2018
8 – 11 January 2018
15 – 18 January 2018
22 – 25 January 2018
5 – 8 February 2018
12 – 15 February 2018
Other dates on request.
Group size: Minimum 2 persons maximum 4 persons. Bigger groups on request.
Included in the price: Thermo overall, warm shoes, hat, gloves. Sleeping bag and equipment for the tour. Wilderness guide, one dog team per person.
Fullboard from lunch day 1 until lunch day 4. (Typical Lapland and Swedish food). Accommodations (1 night in a tent, 2 nights in wilderness cabins).
Not included in the price: Travel insurance, alcoholic beverages, travel to and from Jokkmokk.
Tour conditions: All activities are mostly moderate. In wilderness cabin we sleep on bunk beds in mixed room with both gentlemen's and women's. The wilderness cabins are heated with wood/gas and have no electricity or running water. In tent we have a wood stove and sleep on reindeer skins in warm sleeping bags in the same tent. Dry toilets are available at the cabins but at the tent camp we dig holes in the snow.
No former dog sled experience is required but you must like animals and feel compassion for them.
Price: 11 900 SEK/person (inkl. V.A.T.)
Winterseason 2017/2018
How physically demanding will it be?
How physically demanding it will be depends very much on the snow and weather conditions during the tour. But, to go dogsledding requires that you have good balance and are reasonable fit. In up-hills and heavy snow conditions you must help your dogs by kicking beside the sled and sometimes also run and push the sled in steep up-hills.
You also need to have in mind that you will be physically active outside in the cold for many hours each day. Our tours are not made up touristic adventures but real experiences where everybody work as a team and helps with everything from taking care of the dogs, cooking, loading the sleds, fetching water etc.
If you are unsure if you are able to take part don't hesitate to send us an email and tell us about yourself and your worries. Women seem to underestimate them self very often, while men sometimes overestimate their own physical capacity. On our tours, we have people from all over the world of all genders and ages up to 70 years old.