Crossing Lapland with dog sled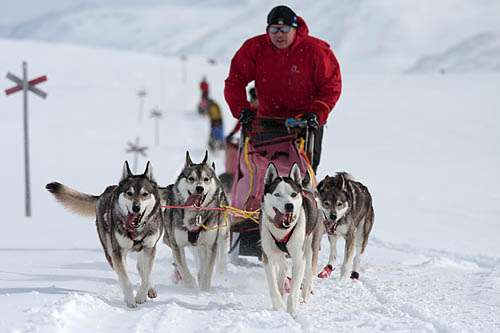 From Jokkmokks forests in the east and up along the river valleys we travel towards the mountains. We cross the extensive mountain moors high above the timber line over to the river Stora Luleälvens glen.
This is a tour for you who want to experience a travel straight through Lapland's great areas, from the snow covered forest up to the bare mountains! We bring snowshoes on the tour and track wild animals as wolverine, reindeer, moose, lynx, hare, ptarmigan etc.
Day 1 Arrival to Jokkmokk.
We meet and give you information about the program for the following days. Together we have a nice dinner and check the equipment.
Day 2 Jokkmokk – Juoksaure, the start of our wilderness adventure.
After breakfast we go by car to our husky kennel. Here we will introduce you to the dogs and give you instructions in how to handle and drive a dog team. You will harness your dogs and make your sled ready for start. During this first day we will travel to a small hut located by a small river. Approx. 30 km
Day 3 Laxholmen.
We start from Juoksaure with the dog teams and travel west. Today we will cross over the big lake Laddon and we will also pass an area where moose usually stays. With the snowshoes we can track moose and other animals. Approx. 30 km
Day 4 Ă…rrenjarka, the small mountain village.
Our journey goes further west through the low mountains and pass the mountain Farforita that go steep down 400 m straight into the lake Karats. This day will be tougher and we travel approx. 50km. During the day we stop for lunch over an open fire. In Ă…rrenjarka we will be served a nice dinner and here we have the luxury with showers and sauna. Approx. 50km
Day 5 Laponia World Heritage area.
We will leave Ă…rrenjarka and head north. Today we can choose between different routes. If the weather is good we can take our dogsleds straight over the mountain Kabla, a very beautiful but exhausting alternative. Or, we can choose to go around Kabla and pass Kvikkjokk, the small village by the end of the road. From there we will reach the King's Trail which we will follow northward.
During the following days our journey will go in the outskirts of Laponia. Laponia is listed as one of UNESCO's World Heritage areas both for its natural and cultural values.
In late afternoon we reach the cabin in PĂĄrte just next to the border of Sarek National park.
Day 6 Aktse, the gate to Sarek.
We turn our faces north and travel through old forests and over frozen lakes. All the time we will be surrounded of beautiful mountains. Aktse is maybe one of the most famous and well-reputed places in the Swedish mountains. Approx. 30km
Day 7 Saltoluokta, over the tundra and back to "civilisation".
This day's run goes up over the timber line. There will be no trees as long as we can see and we travel over windswept plateaus and mountain moors. We head back to Saltoluokta Mountain Station. A hot sauna, showers and a three-course dinner in the restaurant await us. Approx. 33 km
Day 8 Departure day.
Breakfast and then departure from Saltoluokta.

Visa Crossing Lappland with dogsleds på en större karta
FACTS
Dates: 26 February – 5 March 2018
Group size: Minimum 2 persons Maximum 4 persons. Larger group on request.
Included in the price: Thermo overall, warm shoes, hat, gloves. Sleeping bag and equipment for the tour. Wilderness guide, one dog team per person. Fullboard from dinner day 1 until breakfast day 8. (Typical Lapland and Swedish food). Accommodations (1 nights at Villa Ă…sgĂĄrd, 4 nights in wilderness cabins, 1 night at Ă…rrenjarka Mountain Lodge and 1 night at Saltoluokta Mountain lodge).
Not included in the price: Travel insurance, alcoholic beverages, international and domestic air fare.
The tour starts in Jokkmokk and ends in Saltoluokta.
Tour conditions: All activities are mostly moderate but sometimes hard. In wilderness cabin we sleep on bunk beds in mixed room with both gentlemen's and women's. The wilderness cabins are heated with wood/gas and have no electricity or running water. Dry toilet is available at the cabins.
No former dog sled experience is required but you must like animals and feel compassion for them.
Price:
23 500 SEK per person (included Swedish V.A.T.)
Single room supplement at Villa Ă…sgĂĄrd 200 SEK/night/person.
Single room supplement at Saltoluokta Mountain lodge 450 SEK/night/person.
How physically demanding will it be?
How physically demanding it will be depends very much on the snow and weather conditions during the tour. But, to go dogsledding requires that you have good balance and are reasonable fit. In up-hills and heavy snow conditions you must help your dogs by kicking beside the sled and sometimes also run and push the sled in steep up-hills (which can go on for quite a while in the mountains.)
You also need to have in mind that you will be physically active outside in the cold for many hours each day. Our tours are not made up touristic adventures but real experiences where everybody work as a team and helps with everything from taking care of the dogs, cooking, loading the sleds, fetching water and setting up tents (when on a trip including camping) etc.
If you are unsure if you are able to take part don't hesitate to send us an email and tell us about yourself and your worries. Women seem to underestimate them self very often, while men sometimes overestimate their own physical capacity. On our tours, we have people from all over the world of all genders and ages up to 70 years old.