With dog sled to the Gate to Sarek National Park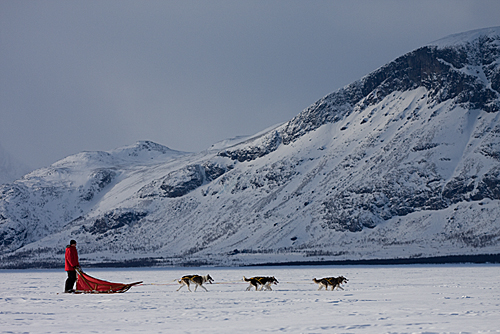 With huskies along the Kings Trail to the gate to Sarek National park. We travel in an area with everything from deep forest, lakes to the bare mountain views without any trees as long as you can see. If the snow conditions are good we can go in to Laponia, the last great wilderness in Europe and one of the world heritage areas. During this tour you will learn how to drive and handle your own dog team. We start and finish at Saltoluokta Mountain station which is famous for its good restaurant.
Day 1 Saltoluokta Mountain station, the beginning of our adventure.
We meet and give you information about the program for the following days. Together we have a nice dinner and check the equipment.
Day 2 Autsvagge, the glen above the timber line.
After breakfast we will make acquaintance with the dogs, all Siberian Huskies and with different personalities. We give you instructions about the equipment and how you use it. The trip will go in the high mountains above the timberline.
Day 3 Along the Sitorivers glen.
This day the trip goes at first easy downhill along the Sitorivers glen. After a while we will come to a winter trail leading to Aktse. Here we stop and eat lunch. Aktse is an old mountain homestead where settlers and hunters lived from time immemorial. Here we see the famous gate to Sarek, Europe's last wilderness.
Day 4 Rittakvalley, the land of the old trees.
We leave our heavier equipment in Aktse and go with light sleds for a day tour over to the Rittakvalleys pine forest landscape. If the weather and snow conditions are good we go in to the Rapavalley.
Day 5 Aktse-Njunjes, the high road.
Along a long uphill we go up on the mountain and head west along the border to Sarek National Park. Without any trails we go 1000 metres over the sea level. We follow an old reindeer trail down through the birch forest to the Sitojaure cabins where we will spend the night.
Day 6 Rinim, the winds centre.
This day we go west along the long lake Sitojaure. In the west end of the lake we find Rinim. Here can interesting weather situations occur, mountain glens and winds meet from different directions.
Day 7 Saltoluokta, the beginning and end of this journey.
The dogs which have become your true friends take us through Autsvagge or up over Ultevis white tundra. We head back to Saltoluokta Mountain Station. A hot sauna, showers and a three-course dinner in the restaurant await us.
Day 8 Departure day.
We have our last breakfast together and then departure from Saltoluokta.
Facts
Dates:
5 – 12 March 2018
6 – 13 April 2018
Group size: Minimum 2 persons Maximum 4 persons. Larger groups on request.
Included in the price: Thermo overall, warm shoes, hat, gloves. Sleeping bag and equipment for the tour. Wilderness guide, one dog team per person. Fullboard from dinner day 1 until breakfast day 8. (Typical Lapland and Swedish food). Accommodations (2 nights at Saltoluokta mountain station, 5 nights in wilderness cabins).
Not included in the price: Travel insurance, alcoholic beverages, international and domestic air fare.
The tour starts and ends in Saltoluokta.
Tour conditions: All activities are mostly moderate. In wilderness cabin we sleep on bunk beds in mixed room with both gentlemen's and women's. Dry toilet is available at the camps. The wilderness cabins are heated with wood/gas and have no electricity or running water.
No former dog sled experience is required but you must like animals and feel compassion for them.
Price: 23 500 SEK/person (inkl. V.A.T.)
Single room supplement 450 SEK/night/person.
How physically demanding will it be?
How physically demanding it will be depends very much on the snow and weather conditions during the tour. But, to go dogsledding requires that you have good balance and are reasonable fit. In up-hills and heavy snow conditions you must help your dogs by kicking beside the sled and sometimes also run and push the sled in steep up-hills (which can go on for quite a while in the mountains.)
You also need to have in mind that you will be physically active outside in the cold for many hours each day. Our tours are not made up touristic adventures but real experiences where everybody work as a team and helps with everything from taking care of the dogs, cooking, loading the sleds, fetching water and setting up tents (when on a trip including camping) etc.
If you are unsure if you are able to take part don't hesitate to send us an email and tell us about yourself and your worries. Women seem to underestimate them self very often, while men sometimes overestimate their own physical capacity. On our tours, we have people from all over the world of all genders and ages up to 70 years old.