Summer, paddling, midnight sun and pure nature.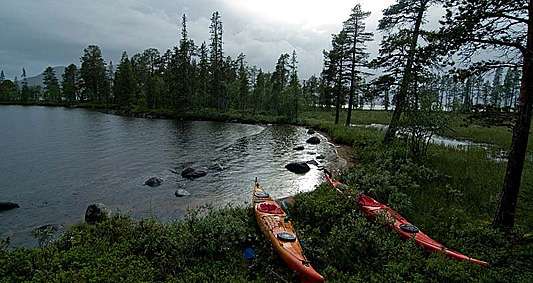 The summer seems to have finally arrived to Lapland and Jokkmokk.
The midnight sun is shining 24 hours and it's hard to go to sleep because of the beauty of nature.
Our canoes and kayaks are ready to take you out to explore our wonderful surroundings.
Experience the peacefulness of silently drifting along a lake or river with pure drinkable water.
We can help you and recommend different paddling tours either you are looking for
a short day trip close to civilization or week-long expeditions in the desolate wilderness without any people.
From us you can rent canoes, kayaks, tents and stoves and we help you with transports to and from the paddling routes.
Our Canoe Central is situated only 3 km outside Jokkmokk.
Welcome to a summer in Lapland
Stina & Matti

Publicerad: 16 June, 2012 i Aktuellt.
Etiketter: canoe, canoe rental, kajak, kajakuthyrning, kanot, kanotuthyrning, kayak, kayak rental, lapland, lappland, midnattssol, midnight sun, paddle routes, paddlingsturer, sommar, summer